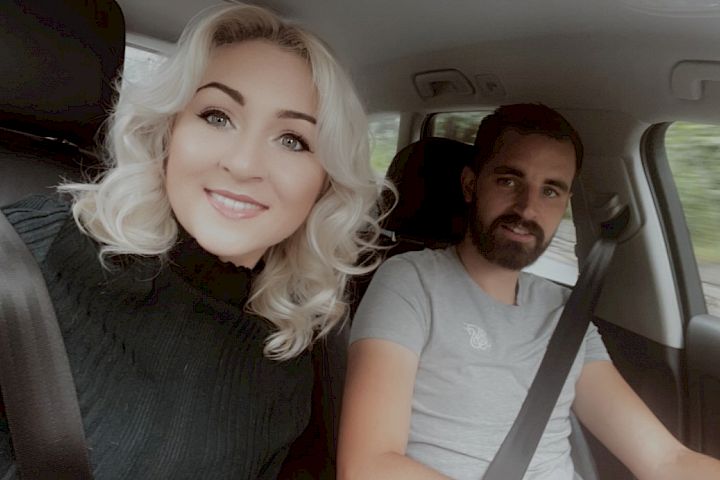 Charlie and Josh's homebuying journey
Highschool sweethearts Charlie and Josh, both now 26, met in 2008 and have been together ever since. After years of renting student accommodation and living with their parents, they were desperate to step onto the property ladder and own their first home.

Needing plenty of space for their puppy, Scraps (giving us all the corpse bride vibes), and looking for somewhere they could put their own unique stamp on, Charlie and Josh found Gleeson and couldn't believe the quality and price.

Now, the couple live in their dream home, a 3 bedroom detached Kilkenny. They're even paying significantly less for their mortgage per month than they used to spend on rent and have tons of extra space to go with it.

We caught up with Charlie about their home buying journey, and how Gleeson helped make the process simple, efficient, and stress free.
 
The interview:
When did you reserve your home? February 2019
When did you move in?  December 2019
Which home type did you buy? Kilkenny, 3 bedroom detached home
Is this your first home? Even though we've lived together before, it was always a rented property or sharing a bedroom at our parents, so this is our first official home that's all ours. We had so much fun renting, but it never felt like home. We would sit and talk about buying our first home all the time. Plus, I lived in fear that our landlord could one day decide to sell up and we'd have nowhere to live – looking for a nice rented property is such a struggle.
We knew that owning our own home would give us that ultimate peace of mind and be an investment that was worthwhile. I'm a big fan of bold interiors so I really wanted my own home with no rules, so that if I want to paint the wall black – I can! We decided to move in with my mum and dad for a couple of years whilst we saved up. We probably could have saved up quicker, but we treated ourselves to some holidays and new cars in the process, much to my Mum's dismay! For us it was all about balance, we could work towards our dream home but also enjoy life together in the meantime.
Why a Gleeson home? We found Gleeson to be so transparent and affordable, with no hidden costs. We had tried to buy with another house builder but the further we got into the process, the more they were implementing price increases and adding on additional charges. The house we were interested in buying from them was initially valued at £130,000 but after all these hidden extras the total came to £167,000, so we pulled out. This was the best decision we could have ever made because then we discovered Gleeson. We found the entire process to be clear from the start and didn't face any nasty surprises.
In fact, all the surprises were positive! We couldn't believe that we were actually going to be saving nearly £200 a month on our mortgage compared to our rent. That money really goes a long way. Our rent was £615 per month for a much smaller property. We were renting an old terrace house which was really dark, there was no natural light, no garden and no off-street parking. It was the same at my Mum's, we had to park our cars on the road and there was endless damage, it was such a nightmare. I think that must have been why we were so sold on our Gleeson home, the four car private drive and gardens to the front and rear were such a selling point for us. I still can't believe that a mortgage on our home is only £433.
The blank canvas that a Gleeson home gave us was perfect. I knew before we even started searching that I wanted to be able to have creative freedom in our home so there was no point us paying a premium for another housebuilder and the expensive frills that come with it.
Why a new home? Although I was desperate to launch myself into some DIY, before I bought our Kilkenny I didn't even know that you had to use a wall plug to screw something into the wall, I've learnt so much since moving in! The fact a new home was structurally sound and a fresh blank canvas just for me to fluff up and put our stamp on was perfect. I really wanted a house that was ready for an evolution not a revolution, and Gleeson gave me just that.
We found our dream plot in enough time to be able to pick our options and for me this was such an exciting part of the process. I especially loved picking our kitchen options. We went for bright white units and a black worktop to match the style we wanted throughout the rest of the house.
We couldn't believe our luck with the plot, both our front and rear gardens are huge plus we have a four car private driveway, something we thought was unheard of with a new build home. We also have a garage which is a great additional space for us to utilise.
Everything is new and fresh, and with the added security of the NHBC certificate and appliance warranties there is nothing to worry about. All I really needed to think about was packing and planning my interior – my favourite part.
Why did you pick your house type? We knew that as soon as we owned our own home that we wanted to get a puppy. I'd wanted my very own fur baby for a long time. So as soon as I viewed the Kilkenny and saw the stunning kitchen-diner with French doors out into the garden, I knew this home would work perfectly for us.
I also loved the open aspect staircase that features in the living room. I am a big fan of the Halloween season so as soon as I laid eyes on the show home my mind was whirling with ideas on how I can style up the banister. We are actually due to get married in September (fingers crossed) in New Orleans and then we will be having a party back here in the UK, of course running with the house and Halloween theme.
How was the process of buying your new home for you? Buying a home is the biggest purchase of your life and understandably can be quite an overwhelming process, especially for first time buyers like us. I can't lie and say I wasn't stressed at times with different elements of the paperwork but our Sales Executive was amazing and always on hand to help us. The team at Gleeson were great. We moved in on the 22nd of December so right before Christmas. I was so happy to be celebrating the festive period in our first home together – it will always be so memorable for us.
The community Gleeson have on Instagram is also amazing and I got so much inspiration from other homeowners before moving in by searching the #gleesonkilkenny hashtag. It really helped make planning the interior and furnishings of my home easier which in turn made the process of waiting for my home to be built easier too. I also set up my own page @stillhousebythe_canal where I now share images of my home. I love that this will be helping other buyers, just like it helped me.
How has life changed for you since moving into your Gleeson home? Honestly, we aren't sure yet. We got our keys in December 2019 and then after a couple of months sorting out our flooring options and getting Scraps the puppy, Covid-19 hit. So we haven't really had the chance to invite anyone round yet! We've basically been living in our little home bubble since then. But we are hoping that we can make up for it very soon with lots of BBQ's and garden parties this summer.
One thing I am so grateful for was the timing of when we moved in, because I dread to think how much harder it would have been working from home with my Mum and Dad in and around all day. I am still so happy that we picked a 3 bedroom home, as it gives me space for my very own home office. The Kilkenny bedrooms are so spacious, so I've still managed to include a day bed in the room, keeping it multi-functional for when we have guests to stay and really making use of the space.
What is life like on your development? The sense of community you get on a Gleeson development is incredible. It's still a highlight driving down our road as everyone smiles and waves. We all have a group chat set up and also a Facebook group and every single person I've met just tries to help people out as much as possible.
Fancy sharing your Gleeson home buying story with us? Just email marketing@mjgleeson.com and you could feature on our blog. Inspired by Charlie and Josh's story? We have over 70 developments to choose from, so why not find your Gleeson home today, with prices from £95,000, what are you waiting for?